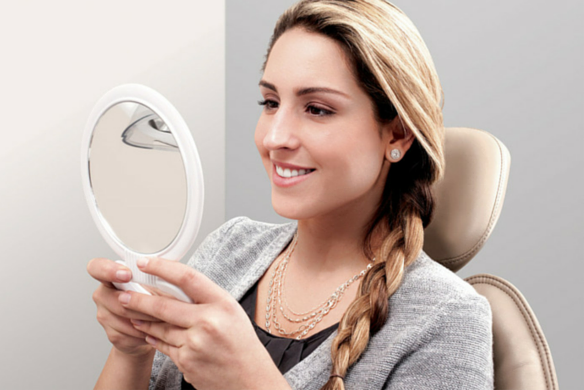 Is teeth whitening for me?
As we age, our teeth naturally darken. Lifestyle habits such as drinking red wine, tea, coffee and smoking can also have an effect on the colour of our teeth. One of the most popular and easiest ways to brighten up your smile is teeth whitening.
Not everyone's teeth are suitable for whitening, nor will one set of teeth whiten like another. It is important that teeth and gums are healthy prior to whitening - a full dental examination with radiographs and photographs should be done beforehand to check for tooth decay, existing restorations (as these will not whiten) and current sensitivity.
At Mascot Dental Clinic, we offer professional In-chair Whitening with Philips Zoom Whitespeed and take-home DIY whitening with PolaDay gel.
Teeth Whitening Packages
---
Teeth Whitening Systems
Zoom! WhiteSpeed System
In-chair whitening is the quickest way to achieve a beautiful bright smile. The Zoom WhiteSpeed uses light-activated technology to provide the best teeth whitening results with the least amount of sensitivity. Unlike other systems, the Zoom WhiteSpeed system has adjustable intensity settings, and so your whitening treatment can be customised to maximize comfort.
PolaDay Take Home Kit
Take-home whitening kits involve the fabrication of custom made trays fitted to your teeth. You will be provided with the correct amount of gel and we will instruct you on how best to use the product. The whitening trays are normally worn for around 30 minutes a day for 2 weeks in the comfort of your own home until you achieve your desired shade.
---
Things to consider before Teeth Whitening
Sensitivity - teeth can become hypersensitive during and after tooth whitening. Sensitivity may occur for 24 hours after whitening and does not mean there is any permanent damage to your teeth. We try to prevent this by providing you with desensitizing toothpaste or ToothMousse to use beforehand. Our in-chair Zoom whitening also includes application of Relief ACP gel afterwards, which will further minimize any sensitivity.
Multi-coloured teeth - if you have any fillings/crowns/veneers on your front teeth, these will not whiten and may require changing in order to match the new shade of natural teeth. If fillings/crowns are required, we recommend that they be done a 2 months after whitening to get a closer colour match.
Habits - smoking, drinking tea/coffee/red wine all discolour teeth.
Dissatisfaction - unfortunately, not everyone's teeth will whiten at the same rate or to the same degree. You need to be realistic about your expectations; 'celebrity white' is difficult to achieve with whitening alone.