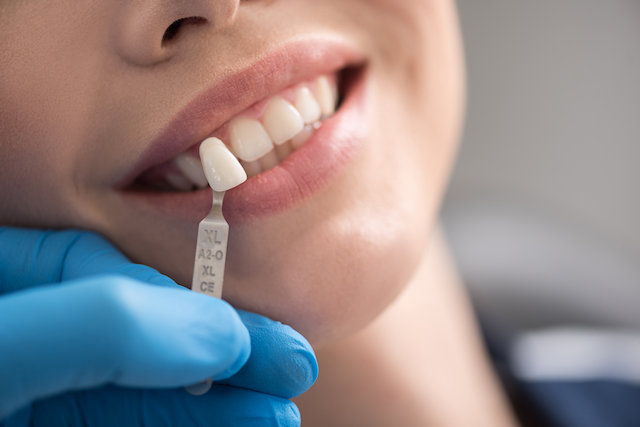 Veneers are a thin, tooth-coloured facings that are carefully created to cover natural teeth. They are widely used for chipped, discoloured, misshapen or misaligned teeth and even sometimes to close spaces.
Veneers can be made of porcelain or composite resin.
Porcelain veneers require 2-3 visits. The first visit involves preparing the teeth by removing a thin layer of enamel from the front and sides of the tooth. An impression is then sent to the laboratory. For the best colour and shape match to adjacent teeth, patients may be urged to visit the ceramics laboratory to have the colour verified - this also gives the lab technician to understand your aesthetic needs. Temporary veneers may be fabricated for the period between preparation and insert. At the insert appointment, the veneers are tried in and if you and your dentist are both happy, they are then bonded.
Composite resin veneers are a cheaper alternative to porcelain veneers, and are usually done over 1-2 visits. It may involve removing a thin layer of enamel from the tooth surface and then bonding and shaping the composite resin to the tooth. Additional layers may be applied to build the veneer to the correct shape and length for your smile.
It is advisable to have an occlusal splint made after veneers in order to protect from breakage caused by grinding during sleep.